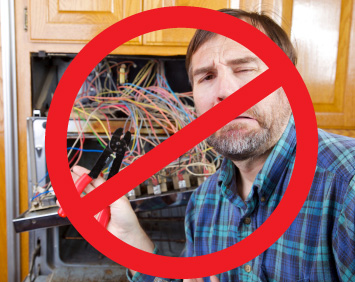 I'm intelligent, I have a good mechanical aptitude and I'm an "all around" handy person. Does that make me qualified to install my own Residential Elevator?
The answer is NO!
It is important to have a trained elevator technician perform the installation of your residential elevator to ensure safe, reliable operation. In many parts of the United States, local codes and standards require some type of licensing or certification of competency from an elevator installer. Even in areas where these kinds of requirements do not exist, the same potential hazards remain.
The elevator industry in the United States maintains an outstanding safety record. Years of documented experience has taught the many members of our trade a multitude of small details, as well as the major factors, that make the difference between a safe, reliable elevator installation and one which could potentially become problematic or even dangerous. While the design of a residential elevator may seem uncomplicated, every unit is equipped with several intricate safety devices. Most of these devices require some kind of field adjustment to ensure proper operation. Only trained technicians are qualified to perform these adjustments.
Fox Valley Elevator uses a strict and thorough screening process to select its dealer representatives. Prospective companies must have experience in the elevator industry and must attend an intensive training program at our facility. We will not endorse the installation of any Fox Valley Elevator product by anyone other than our factory authorized dealers.
At Fox Valley Elevator the safety of you and your family is our single largest priority.