The Excelevator™ roped hydraulic elevator is our most popular residential elevator and is a step up from the Custom-Lift. You will enjoy the ride with smooth acceleration and deceleration. Standard features include emergency descent with backup battery and automatic homing. Choose your elevator car from our beautiful standard collection or from our custom raised panel designs.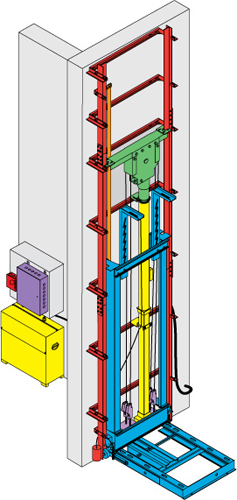 Excelevator
Roped Hydraulic
Series 114
Capacity 1000 lbs

Excelevator-RMR
Reduced Machine Room
Winding Drum
Series 022
Capacity 1,000 lbs

Excelevator – MRL
T-Rail
Winding Drum
Series 021
Capacity 1,000 lbs
Technical
*Capacity – 1,000 lbs.
Cab Size – maximum of 15 sq. ft.
Travel – up to 50 ft.
Stops – up to 6 stops
Nominal Speed – 40 feet per minute
Guide Rail – 8# T-Rail Pit
Depth – 8″ minimum required
*Overhead – see dealer
Controls – Fully automatic at car and landings, car light switch with auto light time out, emergency light and in-use indicator at landings. Field programmable homing feature and modular car wiring and digitally addressed hoistway wiring.
Signal Systems – Wall mount phone jack and
emergency alarm.
Electric Supply – 230 volts, 25 amp, single phase.
A separate 120 volt circuit is required for cab lights.
*Emergency Lowering on RMR and MRL – Manual operation is standard, battery powered emergency lowering is optional.
*Drive – Variable speed frequency control, for
controlled acceleration and deceleration.
Slack Cable/Broken Rope – Twin instantaneous, broken and slack cable applied by retained compression spring.
Car – Frameless car with accordion gate standard. Standard collection and custom raised panel designs are available on all Excelevator elevators.
*Controller Location – Remote location outside of hoistway, locked control box.
Additional Options – are available, for details contact your local dealer.

* Contact your dealer for exact specifications for any of these models or for a complete spec sheet. Click here to find your nearest dealer.