The Paca Series, is an affordable winding drum or hydraulic elevator system. Innovative J-Rail system reduces installation time and offers a smoother, more stable ride. Reliable digital control system requires minimal wiring and fast setup.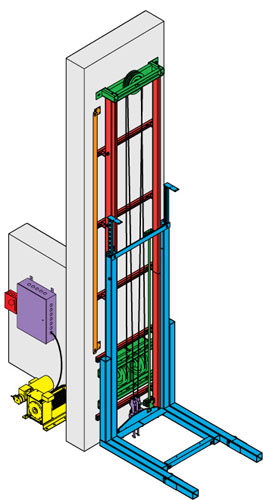 Paca-Lift
Winding Drum
Series 118
Capacity 1,000 lbs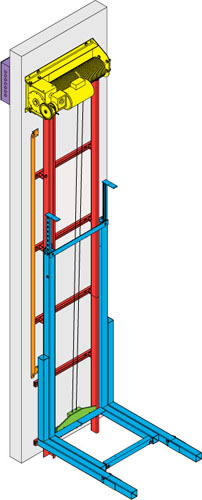 Paca-Glide
Winding Drum
Machine Roomless
Series 115
Capacity 1,000 lbs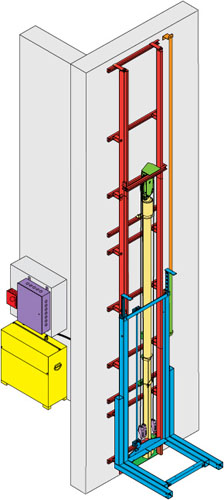 Paca-Ryde
Roped Hydraulic
Series 116
Capacity 1,000 lbs

Technical
Capacity -1,000 lbs.
Cab Size – maximum of 15 sq. ft.
Travel – up to 50 ft.
Stops – up to 5 stops
Nominal Speed – 40 feet per minute
Guide Rail – (2) 3/16″ J-channel steel
Pit Depth – 8″ minimum required
*Overhead – See dealer
Controls – Fully automatic at car and landings, car light switch with auto light time out, emergency light and in-use indicator at landings. Field programmable homing feature, modular car wiring and digitally addressed hoistway wiring.
Signal Systems – Wall mount phone jack and emergency alarm.
Electric Supply – 230 volts, single phase, 60 hertz with 3-pole disconnect switch. A separate 120-volt circuit is required for cab lighting.
*Emergency Lowering – Automatic descent with backup power supply. Manual hand wheel standard on Paca-Glide and Paca-Lift.
*Drive – Variable speed frequency control, for controlled acceleration and deceleration.
Slack Cable/Broken Rope – Twin instantaneous, broken and slack cable applied by retained compression spring.
Car – Frameless car with accordion gate standard. standard collection and custom raised panel designs are available on all Paca Series elevators.
*Controller Location – Remote location outside of hoistway, locked control box.
Additional Options – are available, for details contact your local dealer.

* Contact your dealer for exact specifications for any of these models or for a complete spec sheet. Click here to find your nearest dealer.